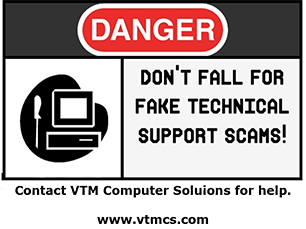 This is a warning for everyone.
This warning has been posted before, although the scammers have taken it to another level of stealing from innocent people.
A client of mine was contacted via phone by a supposed Microsoft representative.
He stated that her computer was infected and that her IP address had been stolen.
In reality, the PC she was using just had just undergone a factory recovery and was just turned on for the first time (perfectly clean).
These groups of scammers are targeting people 55 and older; BEWARE-everything they say is a lie.
First of all Microsoft would NEVER call anyone. The people calling are NOT Microsoft reps and when asked for their Microsoft ID, they hang up the phone.
My client made the mistake of letting them have remote access to her computer and the damage began. They installed viruses and pop-up windows, which looked like (to the untrained eye) someone was accessing the computer. One of them was a window which showed the green script from the movie The Matrix.
In previous scams, they would ask you to buy a service to clean and protect your PC costing $300 to $400 dollars and asked for a credit card.
Now, they are asking for a check from your bank account at $699.00 for a firewall device which they would install on your machine. The firewall they speak of is not a piece of software. It is actually, a piece of hardware which is purchased from a store or vendor and cannot be installed remotely.
What they really do is scam you out of money and install a piece of software that is actually available free on the internet, you would then have paid $699.00 for a product that anyone can download for free.
Luckily she called me while she was on the phone with them, as they almost had her convinced to purchase their product.
I told her to tell them she was not interested and hang up, which she did and ignored the repeated call backs.
I repaired the PC in a very short amount of time by removing all the Malware they had installed.
The $699.00 they try to get from you does nothing except leave you with the malware they installed and your bank account in jeopardy.
So, just remember Microsoft NEVER calls anyone!
PLEASE PASS THIS ON TO EVERYONE YOU KNOW