Computer Diagnosis & Repair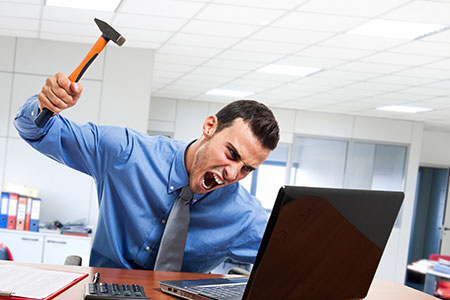 Is your computer acting up? Don't PANIC!
I can help you right at your business or home – call now (732) 735-6933. I come prepared with the necessary hardware and software diagnostic tools to successfully resolve the problem onsite.
Using state-of-the-art computer diagnosis techniques, I can solve the following problems:
Viruses, malware, spyware, hardware crashes
Slow or freezing computer, boot up problems
Blue screen of death, data recovery services
Printer problems & printer setup
Much more
I can also help with
software and hardware upgrades
hardware replacements (memory, hard drives, power supplies, video cards, motherboards, LCD screen and power jacks on laptops)
protecting hardware from damage caused by power failures
and even the installation of parental controls
My computer repair services cover all PC brands and Macs in your business or home.
Not a computer geek? Don't worry, I won't confuse you with a lot of jargon – I explain things in a way that everyone can understand. And please, ask questions – I'll take the time to answer them! VTM Computer Solutions can help you solve any problem you are having.
I take calls from 9 AM to 6 PM Monday through Friday, and on Saturday 10 AM to 3 PM.
Questions? Call Vincent at VTM Computer Solutions at (732) 735-6933.